Who Are Valentia Island Energy?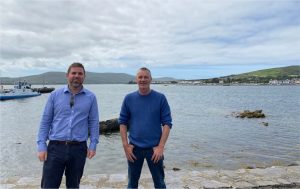 Valentia Island Energy Ltd is a joint enterprise between Valentia Island Energy Co-op (VIEC) and Energy Co-operatives Ireland. The purpose of this joint venture is to maximise the level of community benefit and engagement in offshore wind projects. 
The Valentia Island Co-op is very keen to take a holistic approach to energy sustainability which extends to every sector of energy use: transport, heating, and industrial processes. To this end VIEC has put hydrogen production both for regional use in South West Ireland and for export, at the heart of its sustainability strategy. It has carried out significant stakeholder engagement work building a strong community alliance behind the roll-out of floating offshore wind.
Energy Co-operatives Ireland Ltd (ECI website link) is a co-operative renewable energy and energy efficiency consultancy promoting community access to the shared benefits of renewable energy, energy conservation, and sustainable transport. It works predominantly in the West of Ireland. The communities it is currently engaged with include Galway Energy Co-op, Todhchaí Acla, Tuar Mhic Éadaigh SEC, Rathlin Island and Arranmore Island, amongst many other communities of varying scales. It has developed a strong reputation as leading community hydrogen experts in Ireland. At present ECI is working on SEAFUEL, HUGE, GreenHyland EU led hydrogen research on islands projects. It was an active associate partner on GENCOMM. ECI is an active member of Hydrogen Ireland's  Community Hydrogen Forum. It is also consulting on behalf of Rathlin Island and Belfast Met in devising their H2 strategy.
Knightstown,
Valentia
Co Kerry 
Ireland